Recently a gentleman by the name of Marcus got in contact with me regarding my "Exner's Revenge" sketch, and asked if anyone had yet attempted to build it. The idea is based loosely on a mix of the cut-and paste design method that's given us cars like the "Atomic Punk" and a bit of Roth-esque show rod.
The sacrificial lamb in this case, would be a 1961 Plymouth Valiant. Truth be told, i never paid much mind to the first generation A-body Lancers/Valiants. The coupes look like the 4 doors, and the 4 doors look like... well, ugly. That said, while the proportions might be on the odd side, there are a few details that i quite like. So I have taken those details that I like, cut away everything else, and put the pieces back together in the form of this 2 seat roadster. The engine would be up for discussion, but for the sake of keeping the sketch on the weird side of things, I elected to have it rock an injected (perhaps alky powered?) Slant 6.
The name "Exner's Revenge" came about, because by 1961, Chrysler's famed design chief's choice of form language was getting more an more space age, as the rest of the industry was going towards the slab sided, simple and clean aproach that ushered in the next generation of automotive styling. Just compare any early sixties Mopar to a Ford or Chevy of the same era and you'll see what i mean. By 1964, Exner had been replaced by Elwood Engle, and gone was the wild surface language, replaced by long horizontal simplicity. To me, the 1st gen Valiant is a nod to one of the last cars to bare that Jetsons-esque styling, and so making a even wilder statement using the same form language is my tribute to someone who obviously had some vision... even if not everyone shared it!
After much discussion back and forth, I'm confident that if anyone has the know-how to build this beast and do the sketch justice, it'd be Marcus. So currently I'm working on putting a rear design together while he lights the torches. :)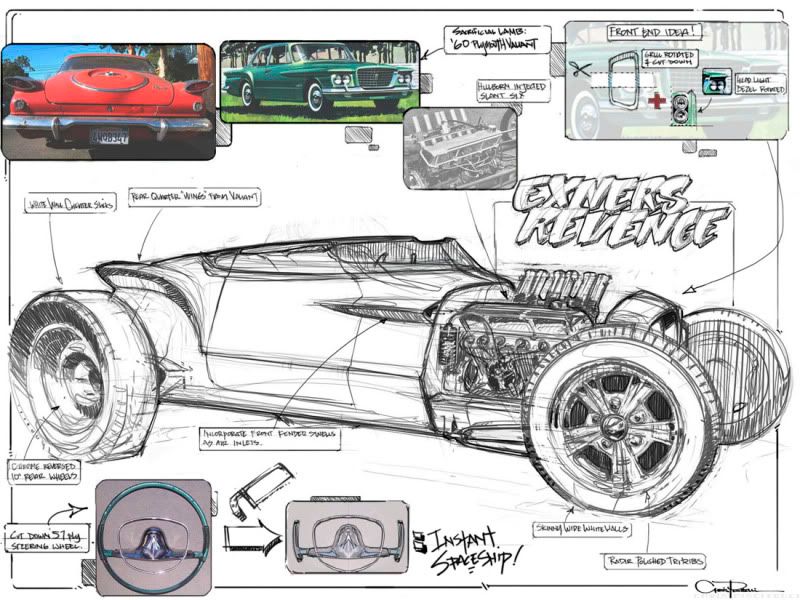 Here's the starting point...or one of them for that matter. Turns out he ended up getting a two for one deal when he went to go pick it up!